Form 2
The most advanced
desktop 3D printer
ever created.
Industrial quality 3D printing made accessible, the Form 2 delivers high-resolution prints at a fraction of the cost. Discover what you can create with desktop stereolithography (SLA) by requesting a sample part below.
[ryvl video_url="https://www.youtube.com/watch?v=8tn5zA5bNSE" auto_play="yes"]See the video[/ryvl]
Large prints,
incredible resolution.
At the heart of the machine is a powerful optical engine guided by custom-built galvanometers, delivering big prints with spectacular detail. A high precision laser draws parts at 25-100 micron resolution, delivering accuracy on par with industrial 3D printers.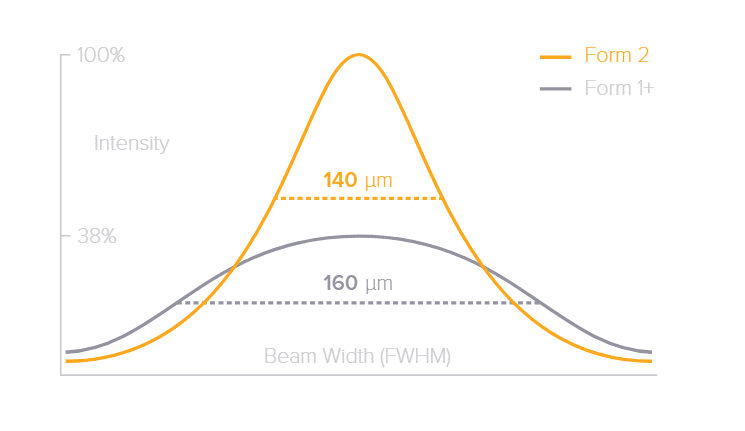 High-Resolution 3D Printing
The Form 2 enables you to print precise models with stunning surface finish – significantly smoother and more detailed than other plastic 3D printing technologies. Save time and money post processing, and spend more time on creating.
Engineered for precision.
Designed for reliability.
A new peel mechanism, wiper, and heated resin tank create a consistent environment and reliable print process. 3D print solid parts as well as small intricate details with high dimensional accuracy.
[ryvl video_url="https://www.youtube.com/watch?v=8tn5zA5bNSE" auto_play="yes"] See the video [/ryvl]
Automated
Resin System.
Spend less time worrying about printing and more time focusing on what matters most: creating and prototyping new products. Our integrated resin system makes material management easy, and allows for larger prints, less mess, and longer tank life.
Automated Resin Refill

Level sensing ensures your tank is automatically filled during printing. No more pausing for manual refills.
Resin Cartridge Recognition

The Form 2 automatically recognizes the resin type, configures settings, and allows you to keep track of resin supplies from your Dashboard.
Open Mode

Experiment with non-standard applications such as embedding objects in prints, creating lithopanes, and etching PCBs. Enables support with 3rd party resins.
Control at your fingertips.
Easily send prints over WiFi, reprint previous jobs, and manage your print queue with our touchscreen interface and wireless connectivity. 3D printing has never been so easy to use.
Post-Processing Designed for the Form 2
Built to complete the SLA engine, Form Wash and Form Cure streamline and automate your 3D printing process to consistently produce high-quality results with less time and effort.
Powerful 3D printer.
Amazing ecosystem.
Everything you need to start printing